Born in China
G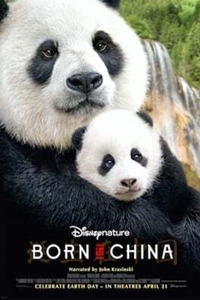 play trailer
▶


Play Trailer
"Born In China" follows the adventures of three animal families the majestic panda, the savvy golden monkey and the elusive snow leopard. Featuring stunning imagery, the film navigates the vast terrain from the frigid mountains to the heart of the bamboo forest on the wings of a red-crowned crane, showcasing remarkably intimate family moments captured on film for the first time ever.
DetailsDocumentary
1 hr. 16 min.
Opened April 21st, 2017
CastJohn Krasinski, Xun ZhouDirectorLu ChuanWriter
Today's Showtimes
No showtimes available
on this date.