Smurfs: The Lost Village
PG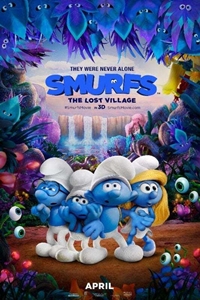 play trailer
▶


Play Trailer
It seems to Smurfette that everyone else in the Village has a purpose — Papa Smurf (leading), Baker Smurf (baking), even Grouchy Smurf (grouching) — except for her. So what's the only girl in the village to do? Go in search of hers, of course! When she accidentally crosses paths with a mysterious creature that takes off into the Enchanted Forest, she follows, and sets off into the uncharted and strictly forbidden woods. Joined by her brothers Brainy, Hefty and Clumsy — and with the evil wizard Gargamel shadowing their every step — Team Smurf undertakes a wild journey full of action, danger and discovery, setting them on a course that leads to the biggest mystery in Smurf history!
DetailsAnimation
1 hr. 29 min.
Opened April 7th, 2017
Rated PG for some mild action and rude humorCastDemi Lovato, Rainn Wilson, Mandy Patinkin, Jack McBrayer, Danny PudiDirectorKelly AsburyWriterKarey Kirkpatrick
Chris Poche
Today's Showtimes
No showtimes available
on this date.